Skip to main content
The Golden '60s
The Golden '60s
---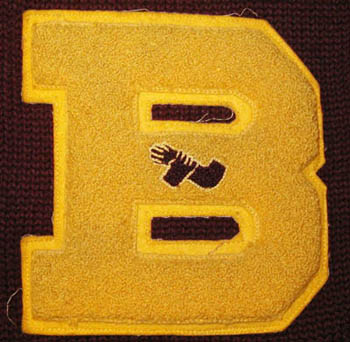 The letter from a 1960 Varsity Wrestling sweater.
Photographs
Conference Champions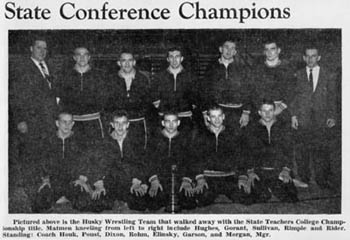 The 1960 State Conference championship team
(click on image for larger picture)
---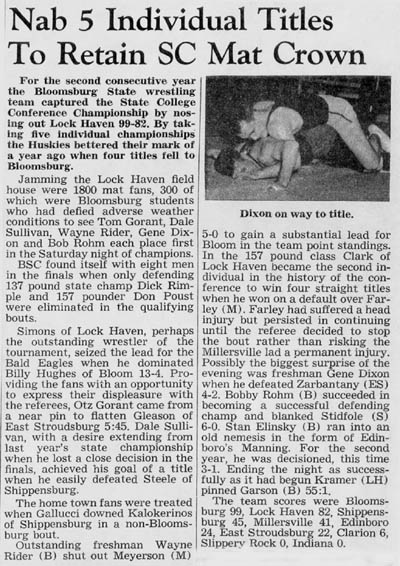 .
Championship wrestling teams were becoming routine at Bloomsburg. In 1960, the Huskies won both the Pennsylvania State College (as shown above) and N.A.I.A. titles, and duplicated the feat in 1962.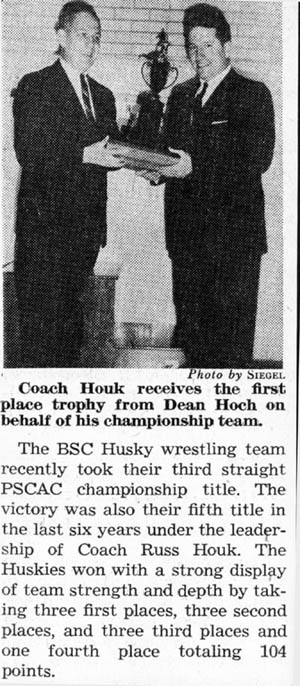 1964 State Conference Wrestling Champions
The Sport of Wrestling - '60s Style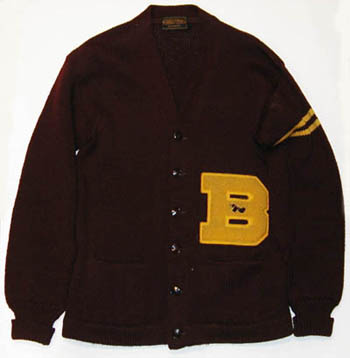 1960 Wrestling Sweater donated by Don Paust, 1963
---
| | |
| --- | --- |
| | |
| Russ Houk looking over his charge, 1965 | January 15, 1966 match VS East Stroudsburg. Keith Taylor on top for Bloomsburg |
| | |
| --- | --- |
| | |
| A wrestling match in Centennial Gym, 1960s | Struggling to win, 1964 |
N.A.I.A. Champions
---
| | |
| --- | --- |
| | Head coach, Russ Houk, speaking to students on Main St. after returning from having won the N.A.I.A. wrestling title. March 14, 1965. |
| (Click on image for a larger picture) | The rally held in Centennial Gym honoring the N.A.I.A. championship team, March 1965 |
1964 - 1965 NAIA Wrestling Champions
(held at Indiana State University)
| | | |
| --- | --- | --- |
| James Rolley | 1st Place | 130 lbs. |
| Bill Robb | 2nd Place | 123 lbs. |
| Edward Taylor | 2nd Place | 137 lbs |
| Tom Vargo | 3rd place | 167 lbs |
| Bill Paule | 4th Place | 157 lbs |
Andruss Library | 570-389-4205 | reference@bloomu.edu
©Copyright Bloomsburg University of Pennsylvania • 400 East Second Street, Bloomsburg PA 17815-1301 • 570.389.4000