1870 Map of Bloomsburg
Own a piece of history with this unique offer for a reproduction of an extremely rare map of the Town of Bloomsburg from 1870. A digitally restored high quality print of the original 40" x 40" map is available up to to full size to decorate your business, home, or office. Funds from this sale will be used to support special library projects.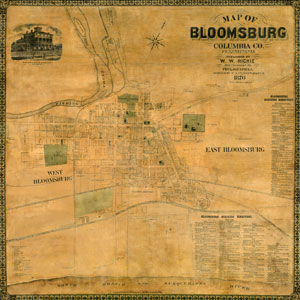 Prints of the map from Lizza Studios in Tunkhannock, PA are available in three standard sizes and prices, along with pre-framed options featuring a white matte and black frame. Other print sizes up to 40"x40" are available by special order. The prices below include sales tax, shipping, and handling.
15" x 15" print: $70
20" x 20" print: $110
40" x 40" print: $395
Payment is cash or check payable at time of order, which can be done by contacting Robert Dunkelberger at rdunkelb@bloomu.edu
Tales from College Hill
The first DVD multimedia production on the history of Bloomsburg University is told with hundreds of rare photographs and never before seen film from the University Archives. Enjoy tales of some of the most interesting people, events, traditions, and campus landmarks. This multimedia show is written and compiled by University Archivist and Historian Robert Dunkelberger.
DVD: $15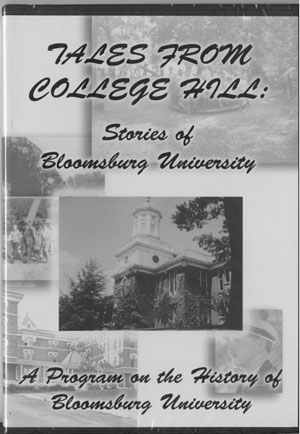 Payment is by cash or check payable at time of order, which can be done by contacting Robert Dunkelberger at rdunkelb@bloomu.edu
Andruss Library | 570-389-4205 | reference@bloomu.edu
©Copyright Bloomsburg University of Pennsylvania • 400 East Second Street, Bloomsburg PA 17815-1301 • 570.389.4000