The Archives Today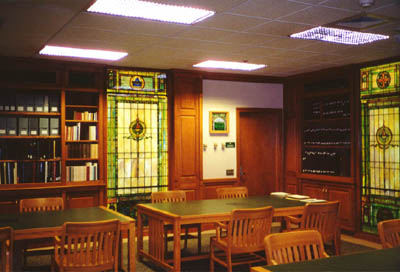 There is little doubt that the Archives Reading Room is one of the most visually stunning areas on the University campus. Five of the seven stained glass windows that were in the old library adorn its walls. The arched Tiffany window is over the doorway, and the four rectangular windows made by the George W. Spence Company of Boston are paired on two of the walls. In 2000 preservation work was completed on the windows, which were cleaned and covered with protective glass. The Spence windows were also completely backlit with two six-foot long fluorescent tubes behind each one that brought out the full colors of the glass.
The reading room also contains copies of many of the University's publications from over the years, including yearbooks, course catalogs, student handbooks and newspapers, the alumni magazine, athletic media guides, and scrapbooks. Special Collections is represented by most of the books from its extensive collection on local and regional history. Three large tables with a total of twelve chairs are available for researchers, which are also occasionally used for organizing and sorting materials.
A big part of collecting historical items is also exhibiting them, and in front of the University Archives/Special Collections area on the third floor of the library are three exhibit cases for displaying and publicizing the collections. Some of the exhibits put on display have documented the Maroon & Gold student newspaper from 1960-74, the Ben Franklin Training School, covered bridges, the Bloomsburg University Players theatre group, World War II naval training programs, Carver Hall, and former President Harvey A. Andruss.
It has been over four years since the Bloomsburg University Archives moved into the new space, and it has been very rewarding. It is a vast improvement over the previous facility, and should serve the Archives and Special Collections unit of the Harvey A. Andruss Library well for years to come.